Backcountry Skiing near Mt. Sherman
After a fairly long week, hour wise, at work, and a slightly exhausting 18km long run, I came up with the genious idea to do a little bit of backcountry skiing. As there is basically no snow left in the front range, I headed to Fairplay with plans of skiing on Mt. Sherman, a 14er that is a few miles west of there.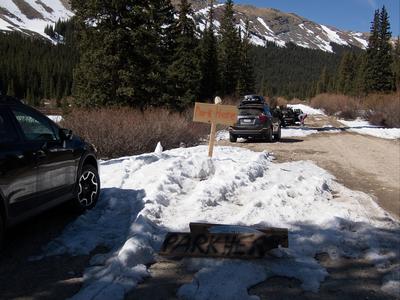 As is typical on a weekend, I got a bit of a later start than I wanted. It ended up not really mattering, but instead of leaving my house around 6am, I left more around 7am. There was a 2 hour drive to the base of the mountain. Most of it was easy driving as there aren't too many people up and about at 7am on a Sunday morning, especially since the governor has ordered all churches close at this time.
I had hoped to be able to drive to a large parking lot where the road turns from a dirt road to a high clearance/4wd road. Unfortunately, it appears that the road had not had winter mantinance to that point, so I ended up parking at the conviently marked "Park Here" sign about 1.5 miles from where I had intended to stop.
Strapping my skis and boots to my backpack, and bringing decidedly too much water, I set off up the road. The road was a fairly constant incline and would have made nice exercise if it had not been covered in deeply rutted ice.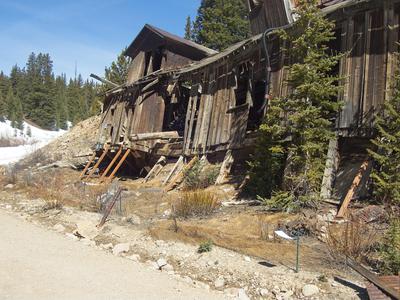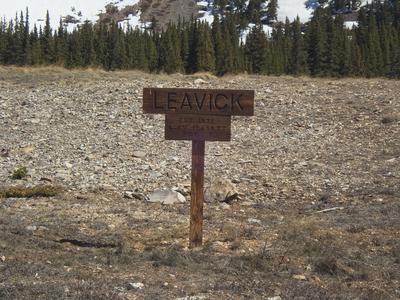 After about 1.3 miles, the road passes a mining claim that appears to be in the process of being rebuild. As is typical in these cases, it is adorned with a large number of friendly "No Tresspassing" signs. No mention of being shot at was made on the signs, but I can only imagine the results if the owner happened to be around with his 12 gauge!
Also of interest, it would appear that the mostly-abandoned mining claim has its own name ("Leavick") as well as an established population of 7 people. Since I didn't see any people in evidence, I am left to assume this sign represents the peak of the would-be town of Leavick and it has since suffered attrition.
At 1.5 miles, the parking lot where most people climbing Mt. Sherman during the summer months park appears. There were two vehicles that had braved the road to this point and were parked there. Further progress up the road by vehicle was stopped by a significant amount of snow appearing on the road just after the lot.

At this point, I thought it might be necessary to transition to skis and skins, so I made the transition. This proved rather unnecessary, however, and after about three tenths of a mile the road was back to walkable, with only half of the road being snow covered. After observing that the road did not seem to get significantly more snow covered, and also observing that my skinning speed is much slower than my hiking speed, I found a nice rock to site on and transition out of my ski boots and back to my hiking boots.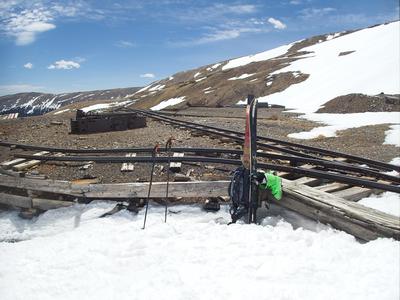 The road I was following continued for about another mile. At this point there is another mine, is significantly worse shape than the previous one, and a split in the road. One fork goes up Mt. Sherman, the other goes up Mt. Sheridan. Sherman is the popular mountain, being a 14er, while Sheridan (at 13,748) doesn't get as much traffic. Perhaps more importantly for me, I was facing the south slopes of Mt. Sherman which did not have particularly great snow cover. The north slopes of Mt. Sheridan had significantly more snow cover and, after toting my skis and boots close to 3 miles, I was determined to get some use out of them. Accordingly, I headed up Mt. Sheridan after a brief rest.
Heading up Mt. Sheridan was slow going. The official trail (an old mining road) alternated between snowfields and bare spots. The temperature was also high enough that I was starting to sink in to the snow when I attempted to hike across it. So I had to abandon the trail and head straight up the slope, picking my way around snowfields. I only went to about 13,000 feet as, at that point, there was a fairly significant break in the snowfields. I couldn't see any way of getting a continuous ski run from higher up, so I decided to make that my turn-around point.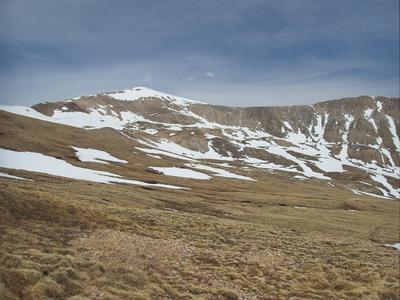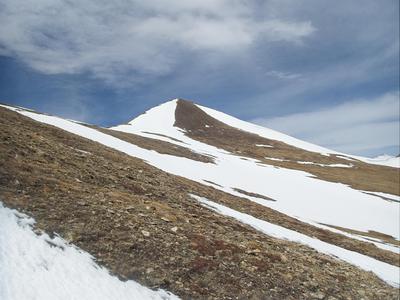 The run down was all too short (as is to be expected). The top 500 feet of vertical was somewhat crusty but the bottom 500 feet was nice corn snow that hadn't gotten too sloppy yet. I was able to ski almost the entire way back to the upper parking lot. Then I had to walk about three tenths of a mile as the road had no snow cover. The last 1.5 miles were skiable, so long as you were wearing rock skis, and at this point in the day were mostly water skiing. After the work I put into getting up the road, I took the opportunity to glide down, even if it meant a few scratches to my bases (no core shots, thankfully).
All together, it looks like I parked around 11,500 feet and climbed to 13,000 feet over a distance of a bit over 5km. Total time was about 5 hours, including a decent amount of resting. I am really going to need some more high altitude training prior to Pike's Peak at the end of the summer (assuming it isn't cancelled).
I did get some video on the way down but it didn't turn out super well. I pointed my GoPro down a little bit but forgot to take into account the fact that I bend forward at the waist while skiing, so the video footage is more of my skis and the snow a few feet in front of my than I would like. I may play around with editing it a bit at some point. If I do, I'll probably come back and link it here.