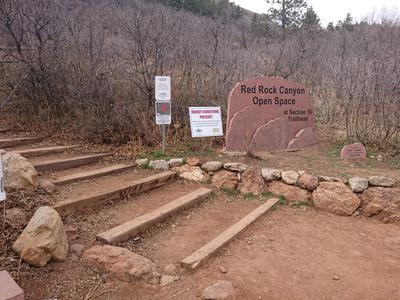 Today I decided to run a trail I have been meaning to do for some time. The Section 16 trail, just west of Colorado Springs, is a 5.5 mile fairly strenuous trail. While it is a very popular trail, it doesn't see quite the traffic of the Incline and the Barr trail, so it can serve as a nice break from the weekend conga lines on those trails! You can look at the HikingProject page for the trail for an overview of exactly where it is.
While not quite as intense of a climb as the Incline, the route does have a section that is 1.4km in length which gains 255 meters of elevation (working out to an 18% grade). Here is the Strava segment. It will certainly keep you working!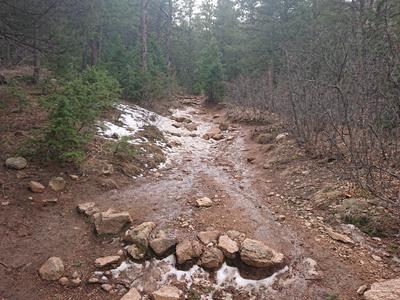 The day was surprisingly good, though there was some cloud cover that promises precipitation. The trail itself does hold snow quite well so there were a good number of times I wished I would have brought my YacTracks. There wasn't much running for the first 4km, due to the amount of climbing, but after that my pace picked up as the trail gradually worked its way down to High Drive, a closed forest service road that sees a lot of use by bikes.
The trail travels through some very interesting biomes. It ranges from yucca plants and low scrub oaks to dense spruces. A lot of the differences in vegitation are because the trail traverses the face of a mountain. In the ravines there is a lot more water and there are more evergreens (and even a few aspens). Away from the ravines the amount of water gradually decreases and the forest changes accordingly.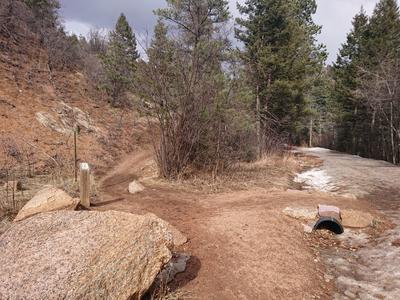 Despite everyone being off from work/school due to COVID-19 I only ran into a couple of parties in my entire time on the trail. Overall, I covered 9.5km with 422m of climbing in one hour and twenty-seven minutes. I'm pretty sure I will be using this trail for training quite a bit! It is so much easier to get to than the Incline and Barr trail, since you can park at the trailhead or very near to it, and most of the trail is in the shade, which will be very nice during the summer!
My knee held up suprisingly well. Both of my calves compained going up the climb, but they seemed to do so equally. I noticed an occasional twinge when I stepped wrong while running the downhill section, but nothing bad and, this evening, my knee feels totally fine.